Date
no date set yet
Journey there
| | | |
| --- | --- | --- |
| Dep. Garching | 07:38 | (via Marienplatz, arrives Bhf 08:09) |
| Dep. Ismaning | 07:36 | (arrives Bhf 08:03) |
| Meet Hauptbahnhof | 08:15 | (meet before under departure board by platforms 25-26, after on train) |
| Dep. Hauptbahnhof | 08:32 | |
| Arr. Scharnitz | 10:33 | |
Hike start point
Hike map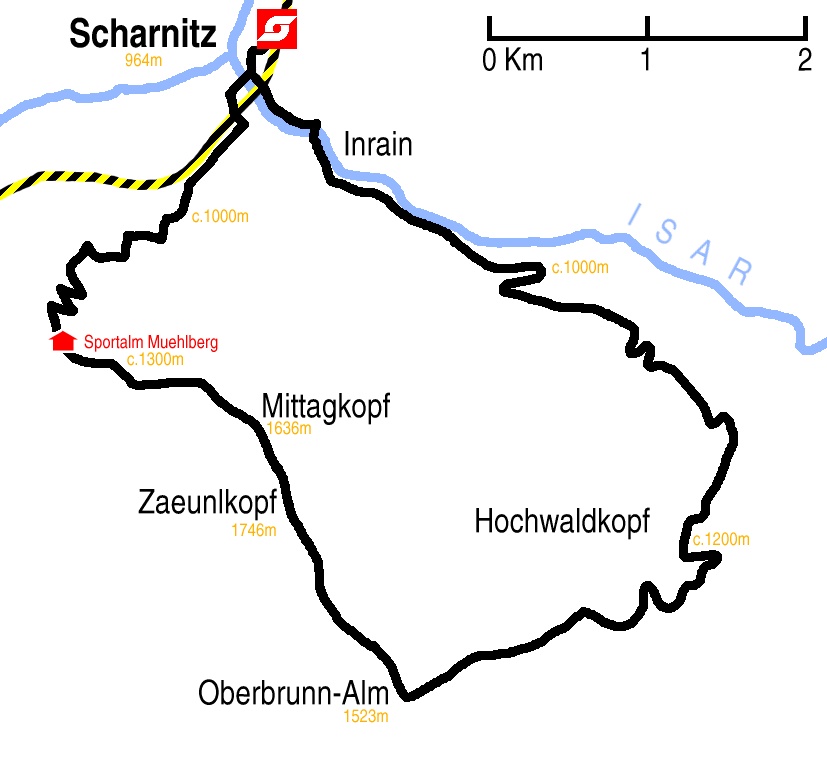 Hike map in other formats
Hike description
Leave Scharnitz Bahnhof (964m) and go west down Bahnhofstrasse.
At the E533 main road turn left. Pass ???strasse on the right, ???strasse on the right, ???strasse on the left, ???strasse on the right and Inrainstrasse on the left.
Cross the Isar bridge and immediately turn left into Porta-Claudia-Strasse??? or is it Isarpromenade or is it Hinterautalstrasse??? and cross over/under??? the railway.
The road immediately forks, with the left fork being Isarpromenade and the right fork being Hinterautalstrasse.
Take the right fork and continue passing Feinweg on the right, Brand on the left, Eisack on the right, Auweg on the left and Inrainstrasse on the left.
Continue on this path for 2Km to Wiesenhof (1036m).
Turn left north-west on to the 28 path and follow it for 2Km as it turns north-east to Wildfütterung (c.1150m) where the path forks. Take the right fork.
After 500m the footpath and track separate from each other going right and left respectively. Turn right, staying on the footpath.
After 150m the track crosses the footpath and after another 300m the footpath and track rejoin for about 800m. When they separate again, fork left, following the footpath.
Continue north, then north-east and then south-east for 2.5Km to Pleisenhütte (1757m).
Continue north and then north-east for 1.5Km to where the path forks (c.1875m) with the left north-east fork leading to Pleisenspitze and the right east fork leading to Breitgriesskarspitze. Take the left fork.
Continue north-east for 2Km, first following the middle of the Vorderkar valley between the Vorderer Pleisengrat and Die Pleisen ridges, and then ascending Die Pleisen to reach the ridge path and continuing along it to reach Pleisenspitze (2569m).
Return by the same route to Scharnitz Bahnhof (964m).
Hike end point
Afterwards
We will eat somewhere in Scharnitz; there is quite a nice restaurant at the station. (Please try to make it for the meal – it's the best part of the day!)
Journey back
| | | | |
| --- | --- | --- | --- |
| Dep. Scharnitz | 17:27 | 19:27 | 21:27 |
| Arr. Hauptbahnhof | 19:27 | 21:27 | 23:27 |
Photos
no photos taken yet
Important stuff
If you want to share a group ticket let me know!
You should definitely check the weather!
For my peace of mind, some conditions apply!
See also