Date
29/05/2004
Journey there
| | | |
| --- | --- | --- |
| Dep. Maierleibnitzstr | 07:37 | (Meet at bus-stop or on bus 293) |
| Arr. Hauptbahnhof | 08:13 | (Meet under departure board, platforms 25-26) |
| Dep. Hauptbahnhof | 08:32 | (Gleis 29) |
| Arr. Ohlstadt | 09:37 | |
Hike start point
Hike map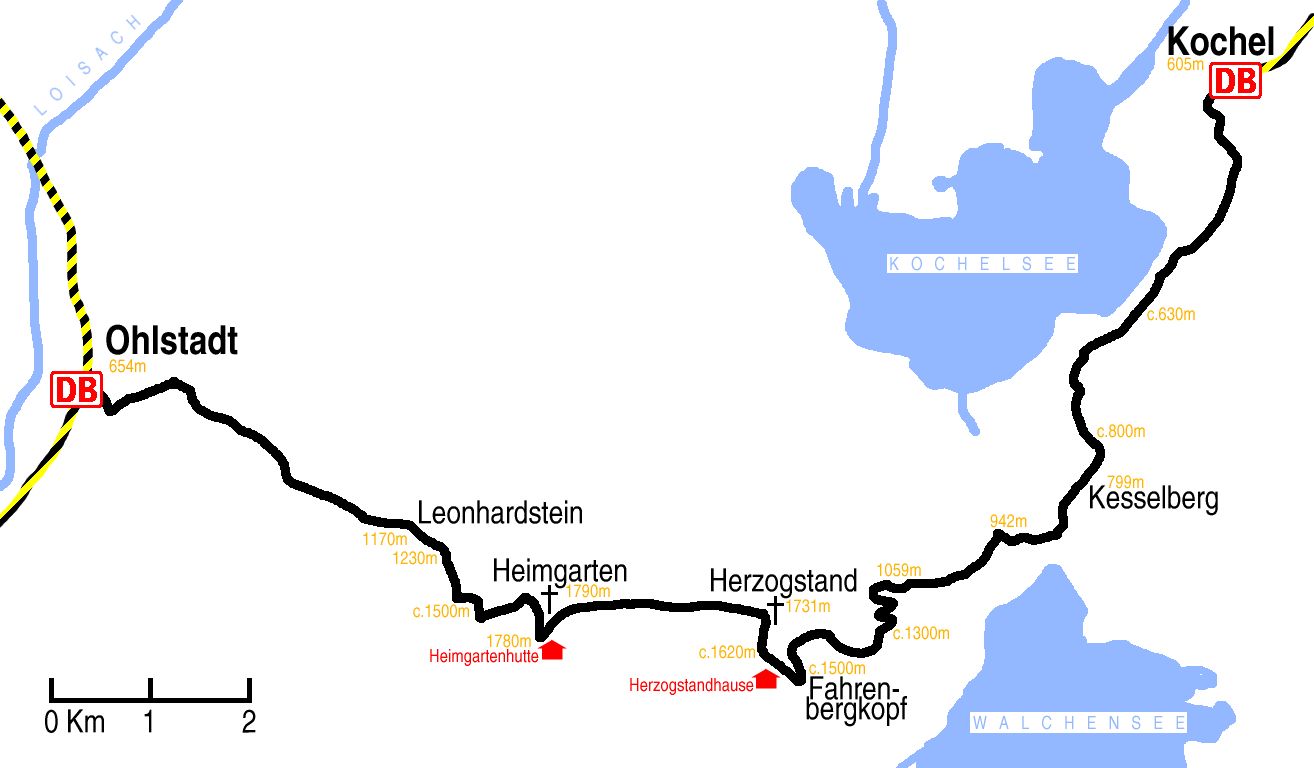 Hike map in other formats
Hike description
Exit Ohlstadt station (654m) and head south-east for 500m to join the main road.
Follow the main road north-east into Ohlstadt for 1Km, passing the haltestelle, to the crossroads.
Turn right and walk 300m south-east to where the road forks.
Take the right fork for 1Km south-east to the car park.
Head south-east on the 441 path for 2Km.
When the path forks take the left fork for 4Km, continuing south-east, crossing the Illing/Rötelstein path, and a crossroads at Leonharstein (1170m) to where to path splits just before Rauheck (c.1400m).
Take the left fork east, and after 1Km the next left fork onto the Rauheck-Heimgarten ridge (c.1570m).
Then it is about 2Km, still on the 441 path, to Heimgarten (1790m).
Then it is about 5Km across the Heimgarten-Herzogstand ridge to Herzogstand (1731m). WARNING: this is a very narrow path with very steep drops on either side!
Stay on the 441 as, over about 8Km it turns south to Martinskopf (1674m), south-east to Herzogstandhäuser, north-east to Rauchkopf (1429m), over Kesselberg (799m) and down to where to path and road meet the Walchensee (858m).
Follow the path a little distance from the road for 5Km down to Kochelsee (599m) and the Grauer Bär Hotel.
There cross to the right side of the road and take the 3Km path around Kochel am See via Rothenberg, to the station (605m).
Hike end point
Afterwards
The Gasthof zur Post, two minutes from Kochel am See Bahnhof, is an excellent place to eat. (Please try to make it for the meal – it's the best part of the day!)
Journey back
We stay overnight at the Gasthof zur Post!
Photos
Important stuff
If you want to share a group ticket let me know!
You should definitely check the weather!
For my peace of mind, some conditions apply!
See also