Date
08/06/2003
Journey there
| | | |
| --- | --- | --- |
| Dep. Maierleibnitzstr | 07:49 | (Meet at bus-stop or on bus 290) |
| Arr. Hauptbahnhof | 08:40 | (Meet under departure board, platforms 25-26) |
| Dep. Hauptbahnhof | 09:11 | |
| Arr. Eschenlohe | 10:36 | |
Hike start point
Hike map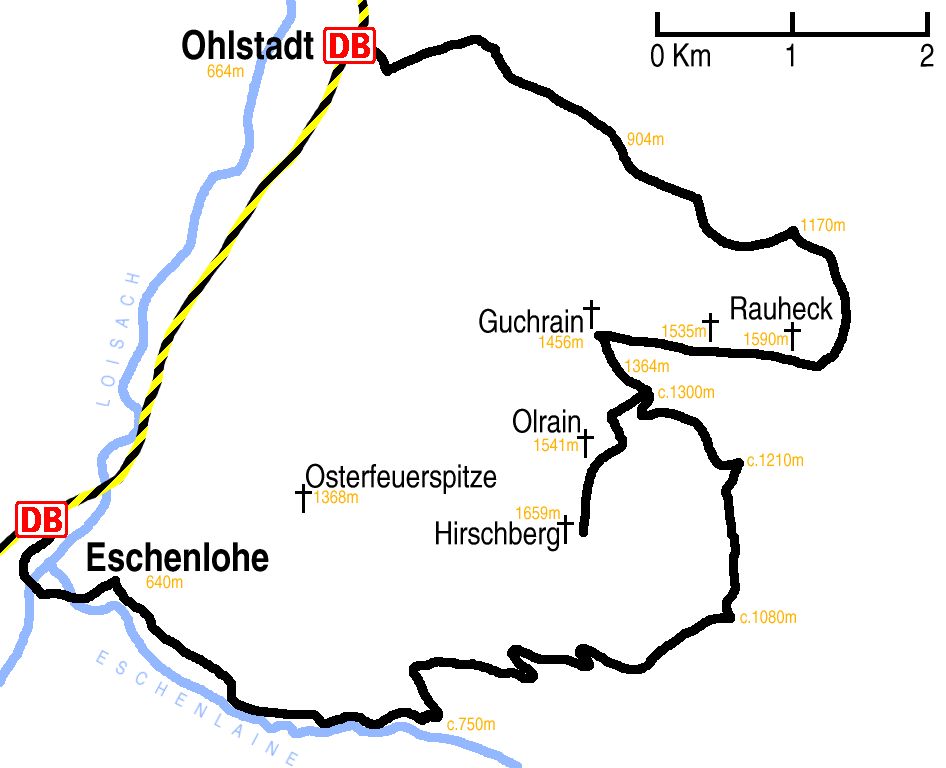 Hike map in other formats
Hike description
From Eschenlohe (640m) station, walk south-west, initiallly following the railway, before turning south east into the centre of Eschenlohe. Cross the river.
Then walk 4Km south-east along the Eschenlainetal valley on path E4 to the fork (c.700m).
Take this fork and follow path 404 round the north side of Sattmannsberg for about 5Km to where it forks just before the Erzlaine stream (c.1100m).
Follow this north fork as it goes anticlockwise around Hirshberg for 3Km, and when it joins with path 448, then follow that south for 2Km to Ölrain (1541m) and a further 1Km to Hirschberg (1659m).
Then retrace the path 448 for 3Km back to the fork, but now continue past it for 1Km crossing the path 442 at the saddle, to Guchrein (1456m).
Continue on path 442 east for 3Km over the unnamed peak (1535m) to Rauheck (1590m).
Then continue east in the direction of Heimgarten, but take the first left fork north onto path 441 and walk 6Km down to Ohlstadt (664m).
Hike end point
Afterwards
We'll eat somewhere in Ohlstadt. (Please try to make it for the meal – it's the best part of the day!)
Journey back
| | | | | | |
| --- | --- | --- | --- | --- | --- |
| Dep. Ohlstadt | 18:30 | 19:26 | 20:30 | 21:39 | 23:06 |
| Arr. Hauptbahnhof | 19:29 | 20:47 | 21:49 | 22:49 | 00:08 |
Photos
Important stuff
If you want to share a group ticket let me know!
You should definitely check the weather!
For my peace of mind, some conditions apply!
See also