Date
10/06/2006
Journey there
| | | |
| --- | --- | --- |
| Dep. Michelbeuern-AKH | 07:24 | (U6) |
| Arr. Philadelphiabrücke / Meidling | 07:27 | |
| Dep. Philadelphiabrücke / Meidling | 07:46 | (R2207) |
| Arr. Payerbach-Reichenau | 09:06 | |
| Dep. Payerbach-Reichenau | 09:25 | (bus 1748 richt. Hirschwang an der Rax Raxseilbahn) |
| Arr. Hirschwang an der Rax | 09:33 | |
Hike start point
Hike map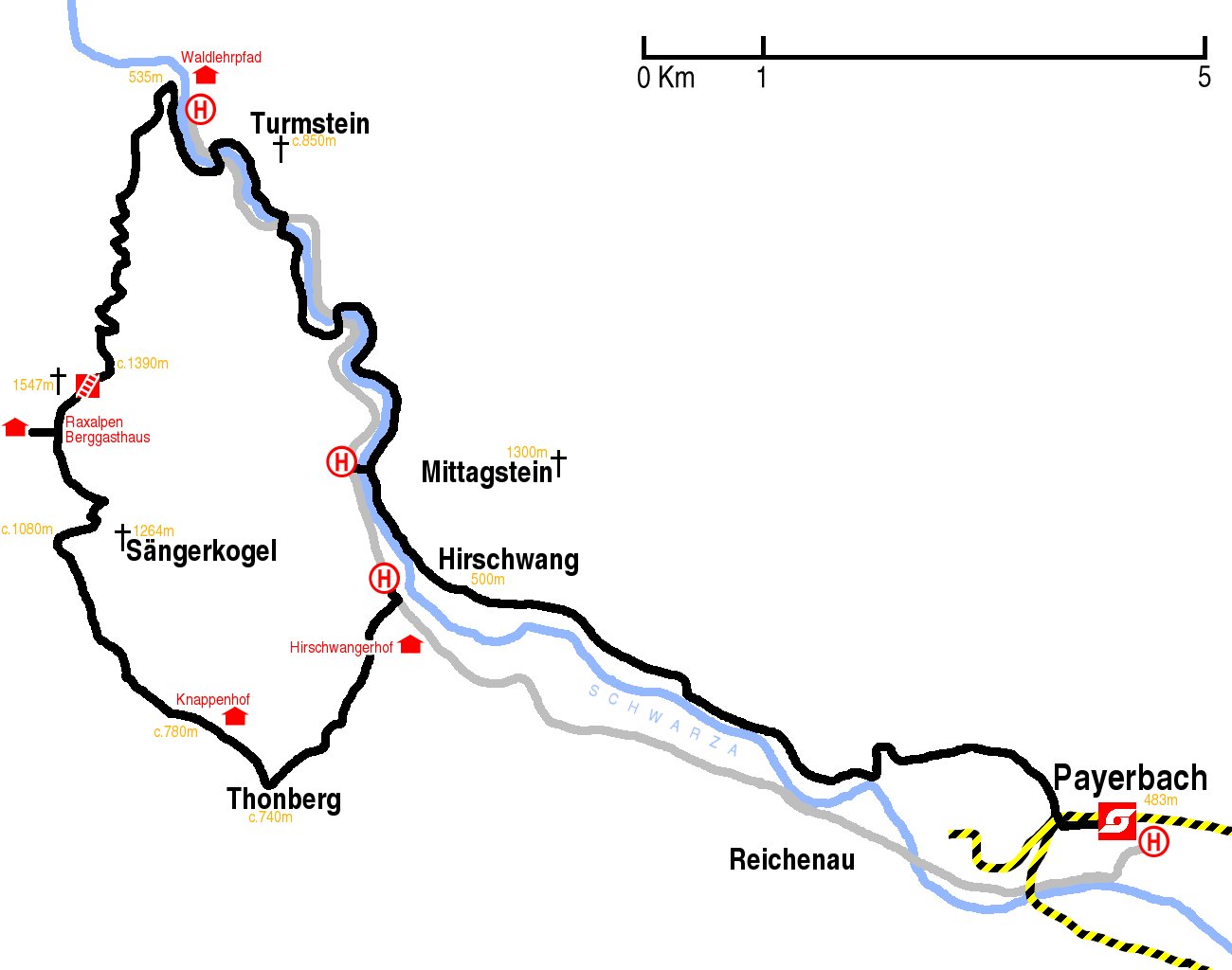 Hike map in other formats
Hike description
From Hirschwang busstop (500m) walk south back along the road for 50m and turn right on to the yellow-signed path which immediately crosses the Henrietten Brücke and heads south-west. Follow signs to Ottohaus.
Walk 3km south-west along this path to Thonberg. Around Thonberg there are some confusing signs; stay on the main path towards Ottohaus.
Follow the path as it turns north-west, past Knappenhof gasthaus, for 3km to where the path splits. Take the right, north, blue-signed "Gsolhirnstein" path.
Continue north-north-east along the same path, which is very steep in parts, to a sign with green and yellow arrows to Schilift and Hirschwang (c.1450m).
At this sign there is also a third path unsigned path; it is behind you as you look at this sign, and is the most obviously ascending route. Follow this unsigned path for 750m to the Berghaus (1547m); do not follow the green markings!
From the hutte, retrace your footsteps for 750m to the Schilift/Hirschwang sign and take the right yellow-signed turn torwards Hirschwang, which is the way you came from. On the trees are both yellow and blue markings (not always together). After less than 500m, immediately before the start of the ski safety netting, there is a small path to the left signed with yellow markings. Take this turning.
Follow this very well-signed path down the Brandschneid ridge for 5km. down to Kaiserbrunn (535m). Beware that this path has a ladder, several metal ropes, narrow ledges, lose scree and definitely requires experience!
Hike end point
Afterwards
We will eat somewhere in Payerbach. (Please try to make it for the meal – it's the best part of the day!)
Journey back
| | | | | | | |
| --- | --- | --- | --- | --- | --- | --- |
| Dep. Payerbach-Reichenau | 16:54 | 17:28 | 17:54 | 18:54 | 19:54 | 20:47 |
| Arr. Wr.Neustadt Hbf | | | | 19:25 | 20:25 | |
| Dep. Wr.Neustadt Hbf | | | | 19:37 | 20:35 | |
| Arr. Wien Südtiroler Platz | 18:19 | 19:06 | 19:19 | 20:42 | 21:20 | 22:19 |
Photos
Important stuff
If you want to share a group ticket let me know!
You should definitely check the weather!
For my peace of mind, some conditions apply!
See also