Date
18/08/2002
Journey there
| | | |
| --- | --- | --- |
| Dep. Maierleibnitzstr | 07:35 | (Meet at bus-stop) |
| Arr. Hauptbahnhof | 08:15 | (Meet under departure board, platforms 25-26) |
| Dep. Hauptbahnhof | 08:33 | |
| Arr. Prien a Chiemsee | 09:33 | |
| Dep. Prien a Chiemsee | 09:50 | (bus 9505) |
| Arr. Unterwössen Post | 10:24 | |
Hike start point
Hike map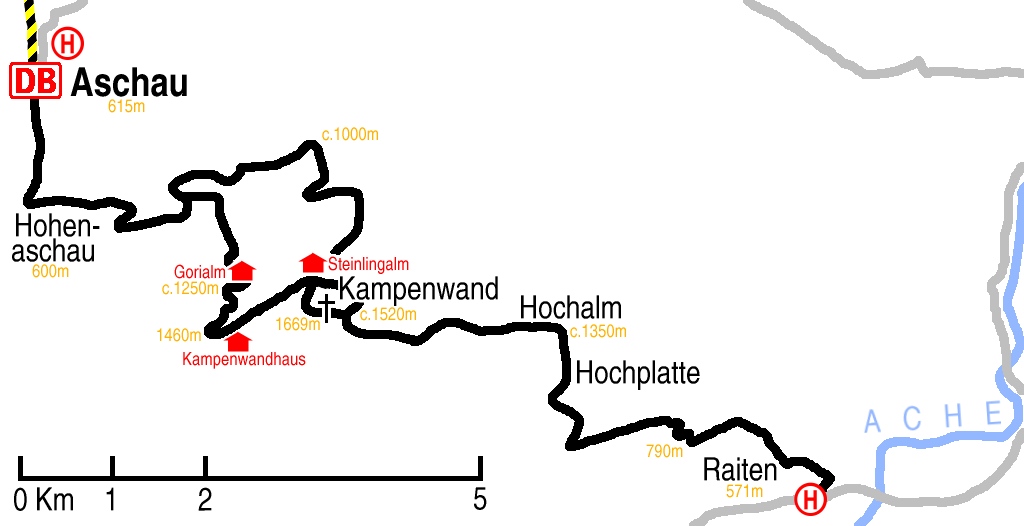 Hike map in other formats
Hike description
From the bus-stop (555m), walk back 1Km to where the road forks, and turn left, west, on the road to Schleching and Raiten.
About 1.5Km along the road, just over the stream, as the road starts to turn to the left, take the small right fork towards Raiten.
Walk 1Km through Raiten, taking the path towards Hochplatte.
Then go about 7Km along the path, following signs for Hochplatte, through woodland, up to Hochalm on the Lindau-Berechesgarten 'E4' path (1350m).
Then it's 3Km west, past a couple of hüttes, and up stony narrow path to Hochalpenkopf (1496m). At Hochalpenkopf there is an unsigned fork which does not appear on the map, where it is important to take the right turn; which is immediately afterwards labelled as the 'E4'.
The path crosses a fence and starts to descend, but after only 100m forks. The left fork is labelled 'E4' and makes a difficult 1Km crossing over the Kampenwand (1669m). The right fork takes 1Km to go around the Kampenwand on an easy path. Either way, you come to Steinlingalm (1473m).
Then either go south-west for 1Km to Kampenwandhaus (1467m) and then 1Km north to Schlectenbergalm and Gorialm (1250m), or take the road to the alms, which first east towards Sulten, and the doubles back.
Then follow the wandering road for 6Km, following the signs to Aschau and then Hohenaschau (c.600m).
Then walk 2Km north along the road back to Aschau (615m).
Hike end point
Afterwards
Gasthof Kampenwand in Aschau has a limited but excellent menu. (Please try to make it for the meal – it's the best part of the day!)
Journey back
| | | | |
| --- | --- | --- | --- |
| Dep. Aschau | 18:00 | 18:58 | 19:58 |
| Arr. Prien | 18:15 | 19:12 | 20:13 |
| dinner? | | | |
| Dep. Prien | 18:24 | 20:24 | 22:24 |
| Arr. Hauptbahnhof | 19:27 | 21:27 | 23:27 |
Photos
Important stuff
If you want to share a group ticket let me know!
You should definitely check the weather!
For my peace of mind, some conditions apply!
See also