Date
31/10/2010
Journey there
| | | |
| --- | --- | --- |
| Dep. Alte Heide | 07:32 | (via Marienplatz and S-bahn) |
| Arr. Hauptbahnhof | 07:50 | |
| Meet Hauptbahnhof | 08:15 | (before this time: under departure board by platforms 25-26; after this time: on the train) |
| Dep. Hauptbahnhof | 08:32 | (gleis 29) |
| Arr. Klais | 10:17 | |
Hike start point
Hike map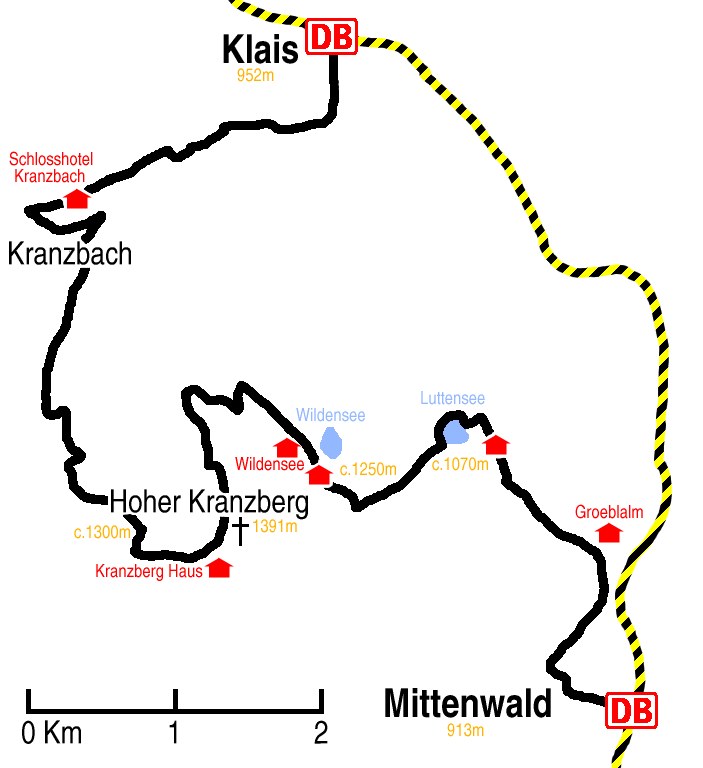 Hike map in other formats
Hike description
From Klais Bahnhof (952m), head south along the Elmauer Weg, and after about 1Km turn right up the gravel path for 3Km to the Schlosshotel Kranzbach. There are some unsigned forks.
At the Schlosshotel there is a unsigned left turn, which leads down to the road on the south side of the Schloss; if you see this turn then take it. If not, then keep walking straight until you reach the main entrance to the Schloss and take the sharp left turn, which heads back towards the left side of the Schlosshotel.
Follow this road about 500m east, and then take the second right turn to Kranzberg.
After only a couple of minutes there is unsigned fork. Take the left fork, which is the Griesweg, and which quickly rises above the Kreidenbach valley. The path does not cross the stream; if it does then you took the wrong turn.
Follow this winding path 3Km south, during which time there are no signposts, but lots of signs of forestry work. Then take the signposted right turn to Kranzberg for a further 3Km, to the Auf Der Hochbrücker plateau (c.1300m).
Go 1Km east to Hoher Kranzberg (1391m) from where there are amazing views in all directions, including of Krottenkopf, Benediktenwand, Schottelkarspitze, Soiernspitz, Karwendel and Wettersteinspitze.
Then descend over 4Km north and east to Wildensee (c.1250m)
Continue 2Km on the same path heading south-east towards Mittenwald, but just after the Bergwache station there is an unsigned grassy path on the left, which leads gently down the left side of a little valley before turning left into the trees. Don't miss it! If you go under a couple of ski bridges across the road, then you missed them and you should turn back.
Follow this path north-east for about 1Km to the beautiful Luttensee.
Follow the path round the back of the lake and it immediately joins a road, turn right and follow the signs to Gröblalm.
Follow this road, which has excellent views up the Soinsbach valley, for 2Km back to Mittenwald.
Hike end point
Afterwards
We'll eat somewhere in Mittenwald; there are several possibilities on Obermarkt, 400m WNW from the train station. (Please try to make it for the meal – it's the best part of the day!)
Journey back
| | | | | | | | |
| --- | --- | --- | --- | --- | --- | --- | --- |
| Dep. Mittenwald | 16:37 | 17:37 | 18:37 | 19:37 | 20:37 | 21:37 | 22:37 |
| Arr. Hauptbahnhof | 18:27 | 19:27 | 20:29 | 21:27 | 22:26 | 23:27 | 00:27 |
Photos
Important stuff
If you want to share a group ticket let me know!
You should definitely check the weather!
For my peace of mind, some conditions apply!
See also