Date
08/09/2002
Journey there
| | | |
| --- | --- | --- |
| Dep. Maierleibnitzstr | 07:12 | (Meet at bus-stop) |
| Arr. Hauptbahnhof | 07:55 | (Meet under departure board, platforms 25-26) |
| Dep. Hauptbahnhof | 08:20 | |
| Arr. Immenstadt | 10:15 | |
| Dep. Immenstadt | 10:18 | |
| Arr. Oberstdorf | 10:48 | |
Hike start point
Hike map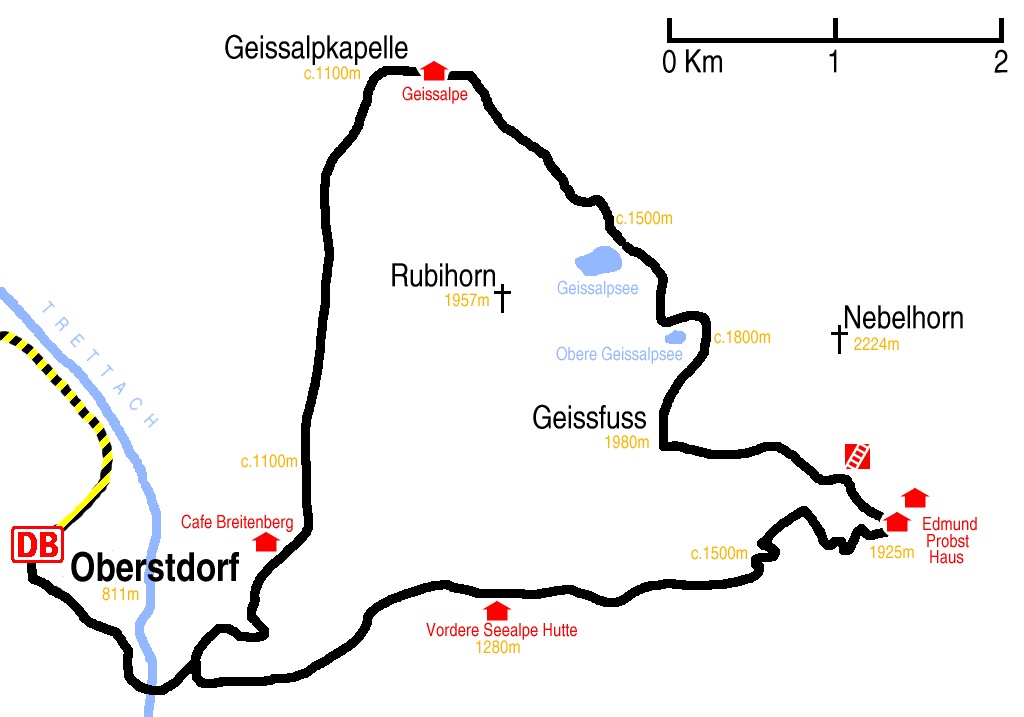 Hike map in other formats
Hike description
From Oberstdorf Bahnhof (811m) turn right, heading 1Km south-east, past the Heimatmuseum, past the lift station, to the Skistadion car park.
Follow path '13' close to the Faltenbach stream east for 3Km, starting on the right of the cable lift, crossing under the lift, joining the main path to the rodelbahn, to the Vordere Seealpe Hütte (1280m).
Stay on the main path for 5Km all the way to the Edmund-Probst-Haus (1925m).
(From here on is only for experienced hikers – the path is bad, there are many ropes and many missing ropes!) Then it's 1.5Km, over the Klettersteig, to where the path rejoins (c.1870m).
Then 1Km west to cross the Nebelhorn-Rubihorn ridge at Geissfuss (1980m).
Descend 1Km north-east past Obere Geissalpsee and and further 1Km to Geissalpsee (c.1550m).
2Km north-west to Geissalpehütte (1149m).
200m further, at the fork by the bridge turn left over the bridge, and 100m further, at the little chapel, take the (briefly ascending) left fork towards Oberstdorf.
Then stay on the Wallrafweg path for 5Km all the way back to Oberstdorf. The path comes out by the Skistadion.
Hike end point
Afterwards
We'll eat at the Dampfbierbrauerei. (Please try to make it for the meal – it's the best part of the day!)
Journey back
| | | | |
| --- | --- | --- | --- |
| Dep. Oberstdorf | 19:09r | 20:07 | 21:09 |
| Arr. Immenstadt | 19:38 | | |
| Dep. Immenstadt | 19:41 | | |
| Arr. Kempten | | | 21:58 |
| Dep. Kempten | | | 22:07 |
| Arr. Hauptbahnhof | 21:31 | 22:34 | 23:44 |
Photos
Important stuff
If you want to share a group ticket let me know!
You should definitely check the weather!
For my peace of mind, some conditions apply!
See also