Date
02/01/2005
Journey there
| | | |
| --- | --- | --- |
| Dep. Garching-Hochbrück | 08:35 | (Meet on U-Bahn, via Sendlinger Tor) |
| Arr. Hauptbahnhof | 09:10 | (Meet under departure board, platforms 25-26) |
| Dep. Hauptbahnhof | 09:42 | |
| Arr. Geitau | 10:54 | |
Hike start point
Hike map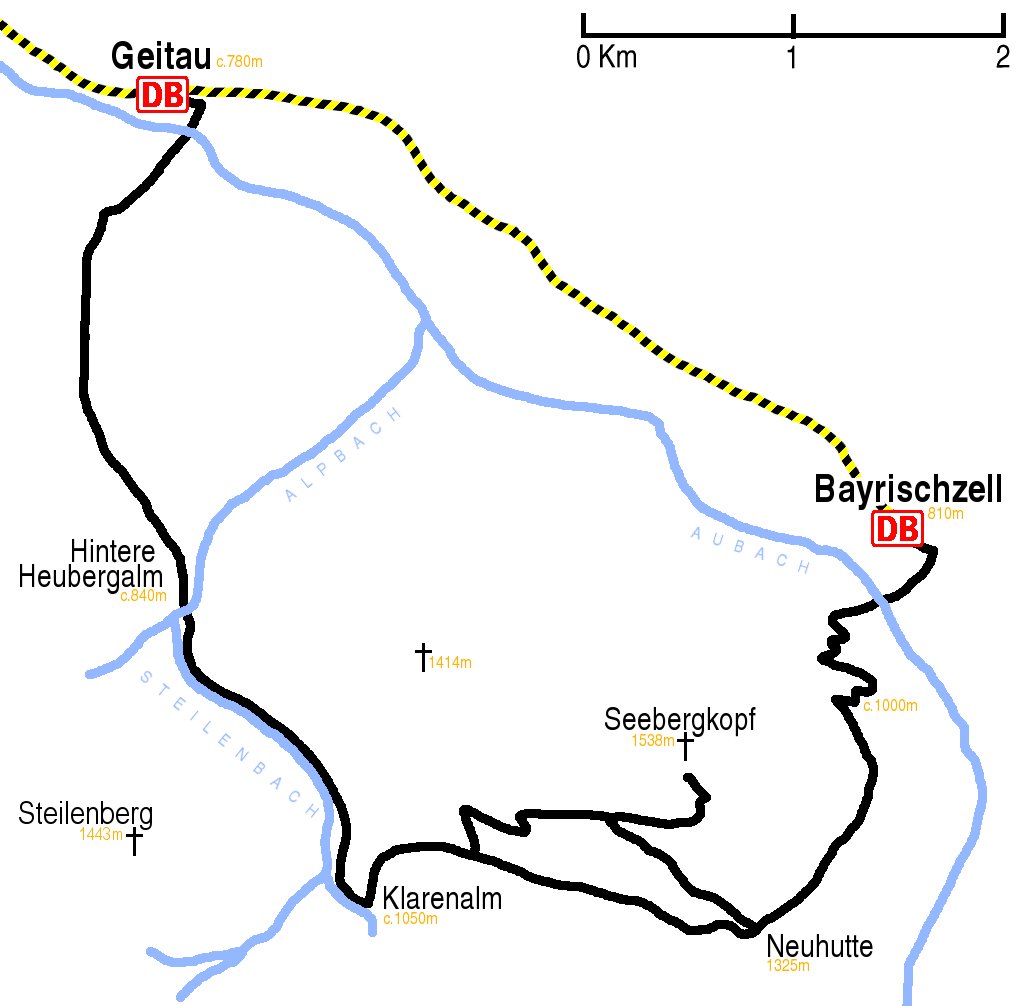 Hike map in other formats
Hike description
From Geitau Bahnhof (c.780m), walk east along the road next to the railway track and turn right at the junction.
Walk 500m to the main road, cross it and continue south for another 500m.
Follow the signs south in the direction of Seeberg and Rotwand for 2Km to Hintere Heubergalm (840m).
There follow the signs to Rotwand and Miesing south for a couple of minutes and at the unsigned fork take the left fork.
Proceed a further 500m and just before a little bridge take the left turning towards Seeberg; do not go over the bridge for the right turning as this leads to the southern end of the west side of the Steilenbach valley and, in the snow, it is impossible to find the path that – according to the map – crosses back onto the east side!
Follow the path for 2Km south to Klarenalm sattel (c.1050m) where there are signs left to Seeberg and right to Rotwand.
Take the left turn towards Seeberg über Klarenalm. In the snow the first turning up to Seebergkopf is probably missed, but continue 3Km along the Bayrischzeller Höhenweg to Neuhutte (1525m) (which is not open to the public).
Walk west for 2Km up the Seebergkopf path which is next to the hutte, and then turn sharply right, continuing up for 1Km to the peak (1538m).
Return to Neuhutte and continue east along for 4Km along the Bayrischzeller Höhenweg down to Bayrischzell.
Walk through the subway and into the centre of Bayrischzell (c.810m).
Hike end point
Afterwards
We'll eat at the Hotel Wendelstein Restaurant in Bayrischzell. (Please try to make it for the meal – it's the best part of the day!)
Journey back
| | | | | | | | |
| --- | --- | --- | --- | --- | --- | --- | --- |
| Dep. Bayrischzell | 16:07 | 17:07 | 18:07 | 19:07 | 20:07 | 21:07 | 22:07 |
| Arr. Hauptbahnhof | 17:29 | 18:29 | 19:29 | 20:29 | 21:29 | 22:29 | 23:29 |
Photos
Important stuff
If you want to share a group ticket let me know!
You should definitely check the weather!
For my peace of mind, some conditions apply!
See also