Date
25/05/2003
Journey there
| | | |
| --- | --- | --- |
| Dep. Maierleibnitzstr | 07:49 | (Meet at bus-stop) |
| Arr. Hauptbahnhof | 08:40 | (Meet under departure board, platforms 25-26) |
| Dep. Hauptbahnhof | 09:11 | |
| Arr. Garmisch-Partenkirchen | 10:50 | |
Hike start point
Hike map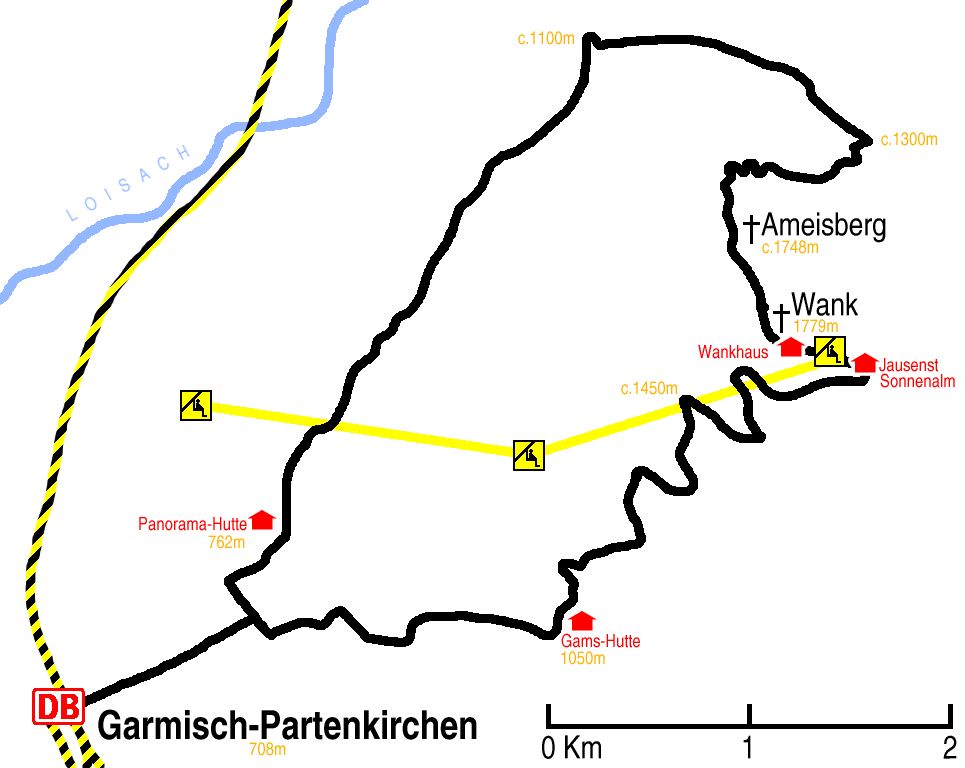 Hike map in other formats
Hike description
From Garmisch-Partenkirchen Bahnhof (708m) walk 1Km north-east, over the crossroads, to the T-junction.
Turn left and walk 300m, and turn right towards St. Anton, Panorama-Hütte and the K6 to Esterbirgalm.
Then walk 6Km on the K6/W1/W13, first north-east and then south-east until the W3 splits from the W1 (c.1250m).
Head south-east for 1Km, and then turn south-west on W3/413/15 towards Wank.
Then go 3Km south-east and south on this path to Wank (1779m) and a further 1Km to Jausenst Sonnenalm Hütte (c.1750m).
Then head east for 500m to join the W5, and then follow the path 5Km down zigzagging under the lift to Gams-Hütte (1050m).
Take the south path for 2Km back to the road (c.760m).
Then it is 2Km back to the bahnhof.
Hike end point
Afterwards
We'll eat at Zum Wildschütz. From the south-west side of the main railway line, it is a few blocks away at Bankgasse 9. (Please try to make it for the meal – it's the best part of the day!)
Journey back
| | | | | |
| --- | --- | --- | --- | --- |
| Dep. Garmisch-Partenkirchen | 19:08 | 20:08 | 21:17 | 22:49 |
| Arr. Hauptbahnhof | 20:47 | 21:49 | 22:49 | 00:08 |
Photos
Important stuff
If you want to share a group ticket let me know!
You should definitely check the weather!
For my peace of mind, some conditions apply!
See also