Date
14/07/2002
Journey there
| | | |
| --- | --- | --- |
| Dep. Maierleibnitzstr | 07:52 | (Meet at bus-stop) |
| Arr. Hauptbahnhof | 08:30 | (Meet under departure board, platforms 25-26) |
| Dep. Hauptbahnhof | 09:00 | |
| Arr. Mittenwald | 10:49 | |
Hike start point
Hike map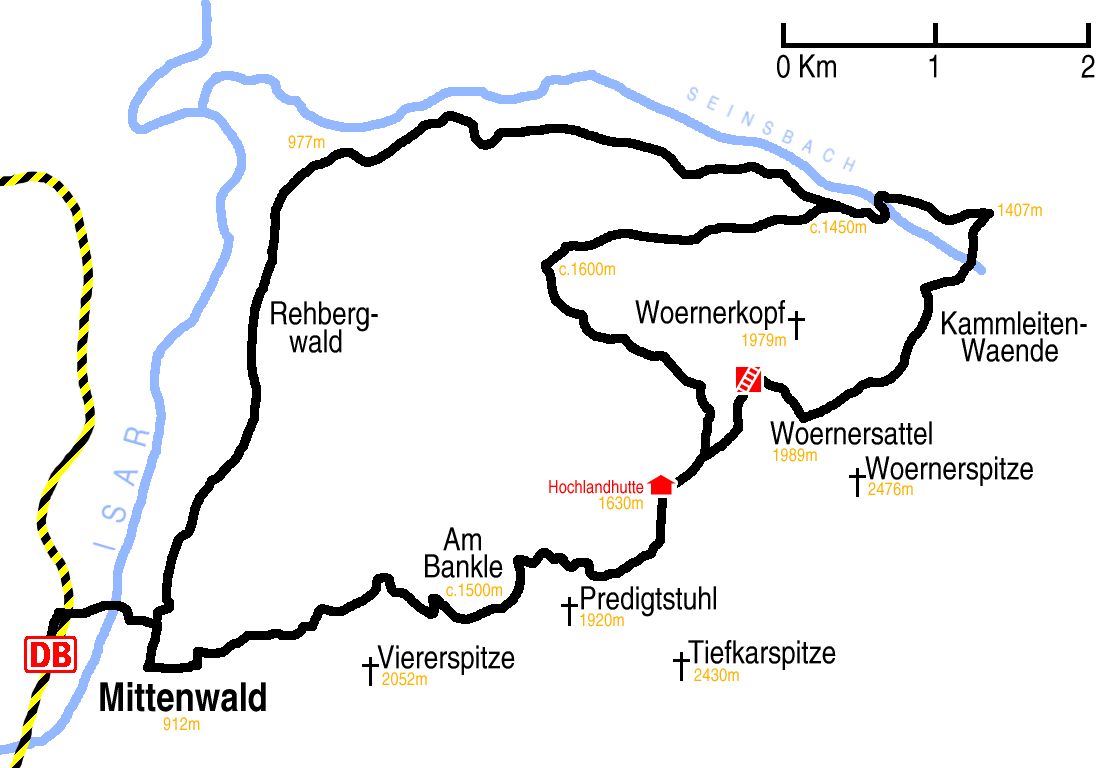 Hike map in other formats
Hike description
From Mittewald station (912m) 1Km east, then heading north-east for along the Ochsenbodensteig path. The first 1Km zig-zags over and back over the steeply rising ridge of the bottom of the Viere-Spitze.
The next 2Km to Am Bankle (1500m) are much gentler.
At Am Bankle the path deceptively turns down-hill for only a few metres, but then turns back, 3Km north-east, right under Predigtstuhl, to the Hochlandhütte (1630m).
500m after the Hochlandhütte, the path forks. The left fork goes 5Km clockwise around the Wörnerkopf to where to Mardersteig path meets the Jägersteig path.
More exciting, but definitely only to be attempted in good weather, the right fork goes 2Km up to the Wörnersattel (1989m), and 2Km down the Wörnerkar valley, under the Kammleitenwände ridge, down to the Seinsbach path (1407m), then after 1Km west on to the Jägersteig path.
From there it is about 8Km west and then south, gently down the beautiful Jägersteig path and then walking south between the Rehbergwald and the E833 road, back to Mittenwald.
Hike end point
Afterwards
We'll eat somewhere in Mittenwald; there are several possibilities on Obermarkt, 400m WNW from the train station. (Please try to make it for the meal – it's the best part of the day!)
Journey back
| | | | | |
| --- | --- | --- | --- | --- |
| Dep. Mittenwald | 19:08 | 20:05 | 21:03 | 22:03 |
| Arr. Hauptbahnhof | 20:52 | 21:53 | 22:52 | 23:52 |
Photos
Important stuff
If you want to share a group ticket let me know!
You should definitely check the weather!
For my peace of mind, some conditions apply!
See also